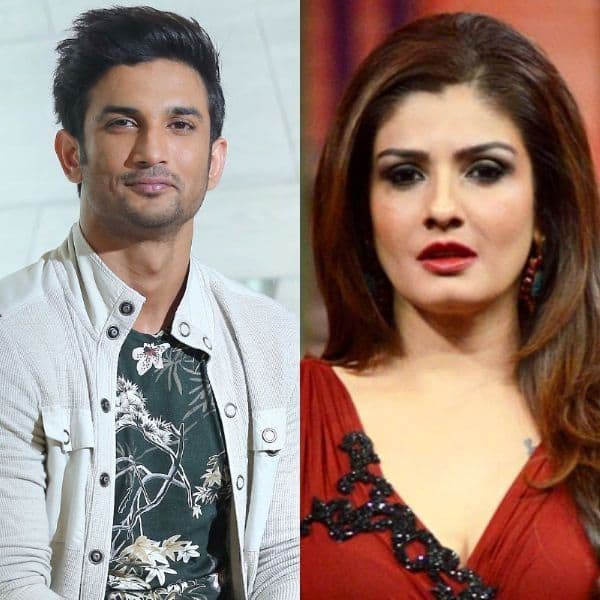 It's been more than three weeks since the demise of Sushant Singh Rajput. There are still many discussions and debates about nepotism, conspiracy theories surrounding his death. Now actress Raveena Tandon has spoken a lot on the hullabaloo that's happening. In an interview with Hindustan Times, she urged people to stop sensationalising the death. She said, "Stop sensationalising it now. You can't blame anyone, not the film industry. This is just becoming a witch-hunt, a lynch mob, which is wrong. People have to think rationally. It's doing a great disservice to the poor boy who's gone." Also Read – Hey Vogue India, the nation wants to know, why Kendall Jenner on the cover for your 10th anniversary issue?
The actress said that she's sad seeing a Whatsapp doing the rounds. She said, "Karan Johar intentionally made a bad film for Sushant, so he could ruin the actor's career. Why would a producer pay an actor crores of rupees, sign him in his movie and then risk the rest of the crores in making a shitty film? Why would anyone invest so much money, time and mechanism to intentionally sabotage his own film? How absurd are these allegations!"
She also added that there are people in the industry who plan your failure. She said, "There are politics, I agree. And there are good people and there are bad people. This is what I had written in my tweet also. And there are bad people who do plan your failure; I've been through it. They are the ones who would want to see you down and removed from films. It's literally like classroom politics. They play dirty games. But people like this are there in every industry. We're in a high profile glamorous job and the competition is cut-throat, so it gets highlighted."
She revealed how she was removed from a film overnight. She said, "I was doing fittings with the film's designer for an outfit for the evening mahurat party. At 4pm, I get a call that I've been dumped from the movie and I've to return the signing amount because the hero's girlfriend didn't like me."
She added, "He had said main party par gaya hoon, and there I realised the hero is someone else and they didn't even inform me'. So, what happened with all these false claims of nepotism? Even the greatest filmmaker Raj Kapoor's family wasn't spared by politics. Because at that time, I used to get inspiration from these people when these kind of things used to happen to me. 'Even they've faced things like this' — I used it as an example to console myself."
Stay tuned to BollywoodLife for the latest scoops and updates from Bollywood, Hollywood, South, TV and Web-Series.
Click to join us on Facebook, Twitter, Helo and Instagram.