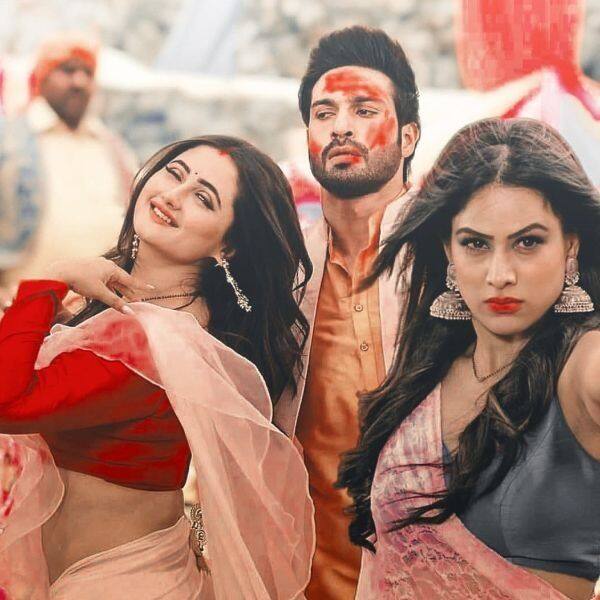 The Episode begins with Brinda going back to the place where Billi was murdered and tries to find the locket, sandal and the owl she had seen. She hears some sound from a drum and comes in her Naagin avatar and throws the drum away. She finds the owl coming out of it. It is the same owl she had seen when Billi was killed and asks the owl to help know who had killed Billi. She requests the owl but the owl does not listen and Brinda knocks the owl down who is some woman. The woman is Ghumgri who agrees to help Brinda in exchange of Brinda helping her when Ghumgri needs her. Ghumgri uses her magic and shows the locket to Brinda. Brinda then calls Dev but he isn't answering as the police reach the Parikh house and question Dev as he had called them yesterday but did not say anything. The police question him if he is trying to save someone. Brinda messages Dev that she has got proof and asks him to come there with the police. Vishakha comes to the place and tries to find the locket. Also Read – Naagin 4, July 18, 2020 written update of full episode: Dev blames Brinda for Billi's murder
Brinda watches her and keeps the locket back to the place so that she can record the video. Brinda records Vishakha's video and confronts her for killing Billi. Vishakha is about to attack Brinda when the police and the Parikh family come on the murder spot. Brinda tells the police that Vishakha has done the murder and shows them the proof. Shalakha is shocked and before Vishakha could reveal Shalakha's truth she keeps the lockets' chain on Vishakha's saree. The police arrest Vishakha. Later Shalakha asks Dev and family to return. But the police ask Dev and Brinda to wait. Shalakha is jealous and does not want Brinda and Dev together. While Shalakha leaves the locket in her neck shines and she feels she has got Mundika's powers. Here Brinda and Dev clear their misunderstandings and Dev remembers all the happy moments from the past. Brinda confesses her love for Dev and they share some romantic moments. However, Brinda notices Dev and Shalakha's wedding ring in Dev's finger. Dev apologises to Brinda for not believing in her and marrying Shalakha. Brinda and Dev decide to make things good in their life again and be together forever. Also Read – Rashami Dessai REVEALS she dropped her plan of buying a Mercedez due to financial crunch during lockdown
Brinda and Dev reach the Parikh house but Brinda tells him that she has some work and will have to go. Before leaving she tells Dev not to believe anyone. Brinda leaves and while on her way she begins thinking who had killed her mother, Manyata. She remembers Vishakha being with her and says that Vishakha might know who had taken Dev's avatar that day. On the other hand, Shalakha is happy to find Vishakha's ring and believes that she might have Vishakha's powers. She tries to use it but fails. She remembers that on the murder spot she was angry as she saw Dev and Brinda together and hence the ring worked. She tells the ring that it needs to stop Dev and a bubble goes out and a mirror fails just when Dev is about to enter the room. Shalakha asks him if the police case has been done properly. Dev then tells her that their marriage is not right as he loves Brinda. Shalakha is shocked and angry at this. She acts and tells Dev that its fine and Dev thanks her for understanding. Dev leaves and Shalakha then says that she will get Dev and Brinda will have to leave. Also Read – Naagin 4: 3 things to look forward to in the new episodes of the Nia Sharma, Vijayendra Kumeria and Rashami Desai starrer
Brinda reaches the jail and questions Vishakha why she killed Billi. Vishakha tells her that she has not killed her but Brinda questions her why she was trying to find the locket. Later Vishakha says that now she will not tell her anything and questions Brinda for supporting Dev who killed her mother. Brinda tells her that she knows that Vishakha has killed her mother and not Dev. They have an argument and Brinda leaves. Here, Shalakha tells the Parikhs that Brinda is an Icchadhari Naagin and to find that out the Parikh throw leaves on her and Brinda comes in her Naagin avatar. They are shocked to see her. Dev's mother remembers Manyata's past and understands that Brinda is Manyata's daughter. Dev's mother asks Shalakha how she knows about Brinda. Shalakha tells her that she does not have the time to explain and asks her to show the divorce papers to Dev and question him for leaving Shalakha for Brinda. Dev's mother tells Dev that he cannot leave Shalakha for that characterless Brinda. Dev gets angry and the Naagmani on his head shines. Here Shalakha keeps an eye on Brinda. Dev turns towards his mother and tells her that he cannot listen anything against Brinda and that he has spoken to Shalakha and she is fine with it. Dev's mother is shocked to see the Naagmani on his head. Dev leaves and the Naagmani is still shinning on his head. Shalakha sees that Naagmani and is shocked. Dev goes to Brinda and she asks him if Shalakha is fine with him divorcing her. Dev tells her that Shalakha is happy but his mother does is not happy with it and will not let them be together. Dev's mother asks Shalakha not to let Dev to go away. She tells Shalakha that she has seen Naagmani on Dev's head and Shalakha tells her that she knows about it. They decide to get the Naagmani from him.
Stay tuned to BollywoodLife for the latest scoops and updates from Bollywood, Hollywood, South, TV and Web-Series.
Click to join us on Facebook, Twitter, Helo and Instagram.