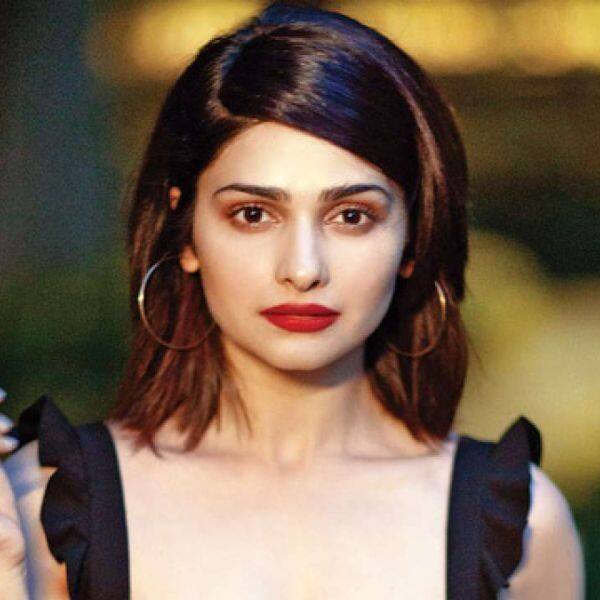 A couple of days ago, Prachi Desai had schooled Ajay Devgn on Twitter when the actor had not tagged her and the rest of the cast of Bol Bachchan while celebrating 8 years of its release. It had created quite a stir on social media as well. She had commented on his post saying, "Hey @ajaydevgn looks like you forgot to mention the rest of us aka #Asin @Krushna_KAS @apshaha #Asrani ji #NeerajVohra ji #JeetuVerma, yours truly & everyone involved in making this baller of a film #8YearsOfBolBachchan." Now, days after her tweet, fans of Ajay Devgn have dug up her old tweets where she had not tagged Ajay and Asin in her post whole celebrating two years of Bol Bachchan's release. Also Read – WTF Wednesday: Prachi Desai's reaction on Ajay Devgn's lack of acknowledgment again proves that insiders will be insiders
Fans of Ajay Devgn have slammed Prachi Desai and have begun a trend on Twitter saying, "HYPOCRISY QUEEN PRACHI DESAI." People are bashing the actress like crazy and questioning her guts to tweet this out and even calling her a flop actress. Have a look at the tweets here: Also Read – Prachi Desai schools Ajay Devgn after he tags only Abhishek Bachchan in his post remembering the blockbuster Bol Bachchan
Her Only Two Successful Movies are with Ajaydevgn , She Must be Thakful to him But She is targeting him Just for the sake of attention !

Shameles @ItsPrachiDesai

HYPOCRISY QUEEN PRACHI DESAI pic.twitter.com/xlQQKCae1O

— ʟᴏɴᴇʀ ᴡᴏʟꜰ (@ADianSagar) July 8, 2020
Why Opportunist actress @ItsPrachiDesai was Silent When all Lead artists of the film Ek Villain did not tagged her.

HYPOCRISY QUEEN PRACHI DESAI pic.twitter.com/ODjiLUfhAy

— N I T I N (@SuperADianNJ) July 8, 2020
pehle mujhe aap bohot pasand thi lekin uss tweet ke baad
I Hate You
HYPOCRISY QUEEN PRACHI DESAI

— Soreb Tyagi(Aj and MSD fan) (@msd_adian_soreb) July 8, 2020
HYPOCRISY QUEEN PRACHI DESAI

At that time she didn't remember to Tag Asin and Krushna pic.twitter.com/G2dbIIkaao

— Dope Shope Raja (@DNAreboot) July 8, 2020
Forget #Nepometer, the way many of Bollywood celebs who are pretending to be against nepotism and now showing (fake) support for outsider, we definitely do need a #Hypocrisymeter for sure!

HYPOCRISY QUEEN PRACHI DESAI

— N I T I N (@SuperADianNJ) July 8, 2020
Bots This is for you, Now stop barking here

Tit for tat

HYPOCRISY QUEEN PRACHI DESAI pic.twitter.com/JaJsnTNXtW

— ʟᴏɴᴇʀ ᴡᴏʟꜰ (@ADianSagar) July 8, 2020
Flop and loser Actrees like @ItsPrachiDesai Sahil khan are targeting Big Actors like #AjayDevgn, #SalmanKhan, #AamirKhan Unnecessarily for some attention and limelight. They Can't act on Screen, but they can act better offscreen

HYPOCRISY QUEEN PRACHI DESAI

— N I T I N (@SuperADianNJ) July 8, 2020
First learn to give respect to your seniors and respected superstar @ajaydevgn sir. Then demand your worthless credit @ItsPrachiDesai
HYPOCRISY QUEEN PRACHI DESAI

— nazia majid (@naziamajid1) July 8, 2020
After having no takers in bollywood, The most fake attention seeker actress @ItsPrachiDesai used ajay sir name for publicity.
HYPOCRISY QUEEN PRACHI DESAI

— Sarang #ADian (@Fullofthought2) July 8, 2020
Bloody ungrateful flop actress.

HYPOCRISY QUEEN PRACHI DESAI@ItsPrachiDesai ?

— Sarika Gupta (@SarikaGupta1980) July 8, 2020
BTW you didn't mention @ajaydevgn in this tweet while celebrating 2 yrs of #bolbachchan !
Bas mauke pe chauka marna aata hai.
HYPOCRISY QUEEN PRACHI DESAI https://t.co/4ylRqo9d3h

— Prince Raj Singh (@ShivaayTweets) July 8, 2020
How To take The advantage Of Current Situation to Get In Notice and Famous …
HYPOCRISY QUEEN PRACHI DESAI
:– Koi inse Sikhe ? pic.twitter.com/foJuq8VsRH

— S H I V A M (@Iforyoushivam) July 8, 2020
Attention seeker bann na zaruri thha kya?

HYPOCRISY QUEEN PRACHI DESAI

— Shiva (@TeraBaapAayaaaa) July 8, 2020
Meanwhile, recently, Abhishek Bachchan said on a chat show, "I remember Rohit and Ajay after about a week into the shoot, we were shooting in Jaipur, they said, 'Look we need to talk,' because we weren't getting that one scene. And I panicked, I said, 'Oh god, these guys are going to replace me in the film,' because I wasn't able to get it. You could see at some point of time there was a bit of polite frustration creeping in on the unit's side." Also Read – Throwback Thursday: When Abhishek Bachchan feared Ajay Devgn and Rohit Shetty would replace him in Bol Bachchan
"That made so much sense to me and I thought I now have to lean completely on Rohit and I did it. It doesn't come naturally to me to be that hyper but I did it and it worked brilliantly. I went to Rohit and said, "Thank you, I needed that one cattle prod to wake up." he had added.
Stay tuned to BollywoodLife for the latest scoops and updates from Bollywood, Hollywood, South, TV and Web-Series.
Click to join us on Facebook, Twitter, Helo and Instagram.