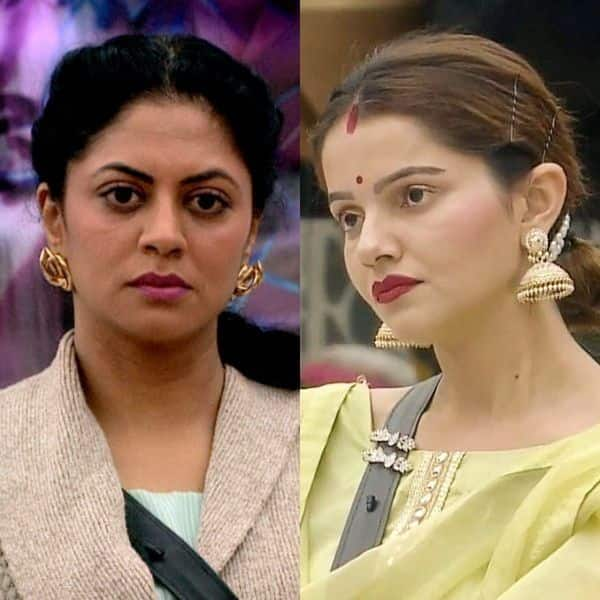 Recap of the latest episode of Bigg Boss 14:
Uff, what drama happened in the latest episode of Bigg Boss 14. I can say that most of it was unnecessary. So, here's a little recap if for some reason you did not watch the episode of Bigg Boss tonight. It so happened that Bigg Boss had noticed people breaking rules inside the house over again and again. And hence, he gave a task to Kavita Kaushik to punish them all who she thinks have broken the rules of the house. For the task, Kavita has to take one or more items from the contestant's personal belongings and put them in a bin outside in the lawn area. Nikki took the names of Aly and Pavitra saying they broke rules by giving the other contestants luxury items. Also Read – Bigg Boss 14, Day 47, preview: Rubina Dilaik and Abhinav Shukla retaliate against Kavita Kaushik's captaincy
Kavita decided to punish Aly first. She took his trimmer and razor and put them in the bin. Aly fought and took his stuff back. He asked her to state her reason for punishing him first. Kavita at first did not reveal the reason but eventually spoke up. Aly and Kavita had a war of words which quickly escalated when she used the baap word in their conversation. Aly's anger was at its peak and he disrupted the task by destroying the property of Bigg Boss by kicking the chair and bin allotted for the task. In the process, Kavita was hurt and she stalled the task. She demanded Bigg Boss to intervene and get her justice. Also Read – Bigg Boss 14, Day 46, Live Updates: Abhinav Shukla is punished by Bigg Boss for disrupting the task
Later on, we saw Rubina Dilaik asking her out of concern whether she is actually hurt and even offers to help her with first aid. She feels that as a captain she should focus on the task. Kavita lashed out at her and brought Rubina's conversation with Abhinav Shukla, Aly and Jasmin Bhasin. She called her out for talking about her and Abhinav's friendship and used the term friends with benefit in their conversation hinting at some personal thing. Rubina asked her to talk about the task and not bring their personal relationship outside the house, inside in the middle of the task. And it is this remark of Kavita Kaushik's that people found disgusting. They did not like Kavita's unnecessary outburst on Rubina who was just asking her to carry on with the game and genuinely inquiring about her injury. Also Read – Bigg Boss 14, Day 46, Preview: Bigg Boss makes Kavita Kaushik punish contestants for breaking rules
Here's how the Tweeples have reacted to what happened inside the house of Bigg Boss 14:
I just got to know the meaning of friends with benefit!!!!

Wtf DISGUSTING yaaaar!!!! How could she say that!! And specially when he is married now!!!

And if its all lie and as a comeback #Abhinav did all this in the task then I don't think so if he was wrong#BB14 #BiggBoss14

— ❥ (@meriimarzi) November 24, 2020
"Friends with Benefits" – sunke hi #AbhinavShukla ke hosh uud gayee#RubinaDialik ka reaction #RubinaRulingHearts #RubinaIsTheBoss – LMAO#KavitaKaushik is the real DABANG – madam ji aap toh pura khel ghuma di@BeingSalmanKhan
#BiggBoss2020 #BiggBoss #BiggBoss14 #BB14

— Talk2ative (@talk2ative) November 24, 2020
Ab yehh kavita personal ho rahi hai…???
Agar Ruby Abhi ke kuchh bhi bola toh dekh lena….#RubinaDilaik #BB14 #BiggBoss14 SHINING STAR RUBINA

— Pratikkumar (@Pratik_Spatel) November 24, 2020
Everyone was wrong today!
Aly overreacted on the Baap thing & got violent.
Kavita for no reason brought up the friends with benefits thing about Abhinav.
Abhinav was holding back #RubinaDilaik & behaved weird altogether! ?#BiggBoss14 #BB14 #BiggBoss2020

— Farhan (@Froakiee_) November 24, 2020
In response to #RubinaDilaik 's concern about her injury kavita was not only rude,
she tried to embarrass Rubina by saying somthing so nasty about her husband on NationalTV !!!!

Rubina was correct and showed concern
❤❤❤#BiggBoss14 #BB14

— Pratikkumar (@Pratik_Spatel) November 24, 2020
In response to #RubinaDilaik's concern about her injury cheapass #KavitaKaushik was not only rude,she tried to embarrass Ruby by saying & insinuate smthing so nasty about her husband on NationalTV!Just to shut her up cos logic se baat karna tohnai aati? CHEAP #BiggBoss14 #AlyGoni

— shruti sinha (@shrutis22399085) November 24, 2020
'FRIENDS WITH BENEFIT' Wala kya bakwas bola #Kavita ne ??#BiggBoss14

— ?yogitaa#AsimRiaz ? (@Yogitaa11) November 24, 2020
Bang on ??
Yas abhinav yasss.
Finally he is pissed from kavita!! YASSS. if he never talked bad abt their outside friendship, kavita shouldn't have either
WTF was the need to say friends with benefits? Seriously !! -_- #AbhinavShukla | #BiggBoss14

— Stanning ????? ★?????? ɴᴏ.??? (@squirrel_nidhi) November 24, 2020
There was ABSOLUTELY NO need for Kavita to bring that conversation up in her argument with #RubinaDilaik today

But I've been noticing this since past few days that she's trying to insinuate something about her past with #AbhinavShukla

SO NOT DONE #BiggBoss14 #BB14

— Saz Rashami (@SazRubina) November 24, 2020
#RubinaDilaik went to #KavitaKaushik to console her & see if she's doing okay or if she needed any medical treatment but that pompous crybaby instead of being grateful to #Rubina snapped at her.#BiggBoss14 #BB14

— ♡?Lulu (@Pinkishhue1) November 24, 2020
Rubina being so kind & compassionate, went to Kavita n asked her if she got hurt & offered her first aid. So sweet of her <3#BB14 #BiggBoss14 #RubinaDilaik #KavitaKaushik #RubinaIsTheBoss #RubinaSquad #AlyGoni #BiggBoss2020

— Tamana Varun dhawan (@Tamanaa_dhawan) November 24, 2020
#RubinaDilaik went for genuine concern no need to react like this…
And nation wants to know what is

Friend with benefit #BiggBoss14 #BB14

— Rohit (@_Rohit0108) November 24, 2020
Hahaha.. in the bid to win #BiggBoss14 @Iamkavitak washes personal linen in public with "friends with benefit" statement . ?
This show really brings out the nut case in people!! ???

— Basanti Ki Beti (@pragatimehra) November 24, 2020
Stay tuned to BollywoodLife for the latest scoops and updates from Bollywood, Hollywood, South, TV and Web-Series.
Click to join us on Facebook, Twitter, Youtube and Instagram.