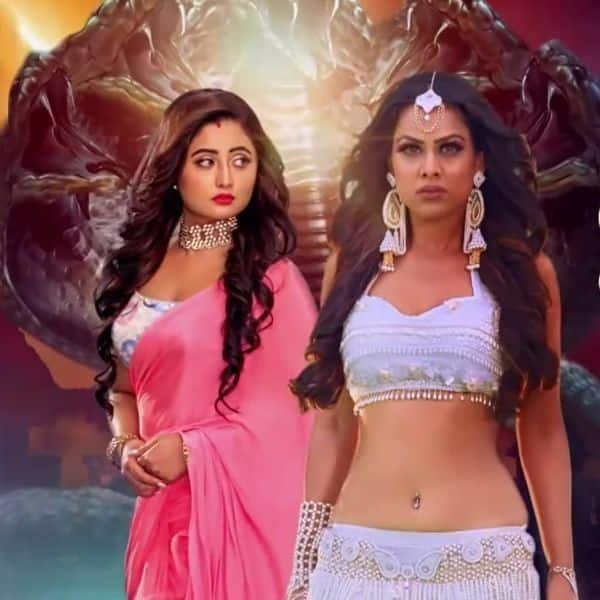 The show begins with Dev and Brinda going towards the Laal Tekdi Mandir. Dev is angry on Brinda and is blaming her for spoiling his life and killing so many members of his family. Brinda requests Dev to come with her to the Laal Tekdi Mandir but Dev is unable to see the mandir. Dev says he does not want to come to any temple with her. Brinda asks him to come as the injury on his head is dangerous. Later Dev says that he would not go to the temple with an impure girl. And suddenly there is storm and Brinda lands up falling in the temple. She asks Lord Shiva why he called her here. Later Brinda describes what had happened in the past 3 days. Brinda says that she wanted to kill Dev as she believed Dev had killed her mother, Maanyata. Brinda is going behind Dev to kill him and she suddenly remembers a person thanking Dev for being in his life on March 8 and helping him the whole time. She feels it is Vishkha who might have changed her form as Dev and killed her mother. But she feels Vishkha has not done it. Also Read – Rashami Dessai REVEALS she dropped her plan of buying a Mercedez due to financial crunch during lockdown
Later she goes behind Dev and suddenly sees Milly being killed. She holds Milly and Milly tells her to go to the Laal Tekdi mandir and she will find out the whole truth. Milly is about to tell her that who is the culprit but she dies. Dev sees all this and thinks that Brinda has killed Milly. Brinda is confused and thinks if the person she was following was Milly then where was Dev. She suspects some problems. Shalakha and Mundika are watching all this. Shalakha is happy that Brinda has been trapped and blamed for Milly's murder. Shalakha shows how she planned the whole thing and killed Milly. She said it was easy to bring Dev here and show Brinda killed Milly. Mundika asks Shalakha to leave before Dev sees it. While leaving Shalakha realises that Mundika is Vishakha. She thinks why has Vishakha been using her. Dev is asking Brinda why she killed her sister. Dev calls the police when Brinda asks him not to do so. She explains to him that Milly knew some secret and was about to tell me. Dev gives Brinda 24 hours to prove herself right. Dev informs Rohan to call the police as someone has killed Milly. The police come to their house and began taking fingerprints of the members of the house to find who has killed Milly. However, Brinda's fingerprints do not match. Later all the members get tested as the fingerprints do not match. Shalakha is scared as she sees bloodstains on her saree. Shalakha's finer prints also do not match. Also Read – Naagin 4: 3 things to look forward to in the new episodes of the Nia Sharma, Vijayendra Kumeria and Rashami Desai starrer
The police leave as the fingerprints have not matched and the Parikh family leaves for Mumbai. Dev asks Brinda how her fingerprints didn't match. Brinda says that she will make Dev believe that she has not committed any crime. Brinda, Dev and Shalakha are in the same car and Brinda remembers that she has to be in her Naagin avatar to know what had happened last night. Brinda sees the footprints of a sandal and suspects that the murderer is a woman. Later they reach home and Brinda meets her maa. Brinda tells her that Dev is suspecting her that she has killed Milly and Brinda tells her to believe her. Brinda tells maa that they need to check all the bags and find the sandal she saw. Shalakha finds half of her locket is missing and asks the servants where her bag is. They tell her that the bags are with Brinda. Shalakha tries to get her bag when Mundika comes there. Mundika uses her magic and takes out Shalakha's sandal from the bag. Brinda sees Shalakha's bag and is shocked to see it open and tells maa that she had closed her bag in the car. Maa asks Brinda to use her Naagin powers and think of what had happened. Brinda sees something while she is in the Naagin avatar and leaves. Brinda meets Dev asks her to pick the phone when she calls him. Also Read – The original Naagin, Sayantani Ghosh, shares scary memories of shooting with real snakes on her hit 2007 show [EXCLUSIVE]
Shalakha and Mundika hide he sandals. Shalakha tells Mundika to find the half part of her locket. Mundika tells her to handle the things on her own. Shalakha tells Mundika that she knows her real identity. She knows that Mundika is Vishakha. Shalakha warns Vishakha to find her locket as she cannot do anything to her. Shalakha tells Vishakha that she needs Shalakha to know the Laal Tekdi Mandir's secret. Vishakha then leaves to find the half part of Shalakha's locket so that Brinda does not find it. Brinda goes back to the place where Milly was murdered and tries to find the locket, sandal and the owl she had seen. She hears some sound from a drum and comes in her Naagin avatar and throws the drum away. She finds the owl coming out of it. It is the same owl she had seen when Milly was killed and asks the owl to help know who had killed Milly. She requests the owl but the owl does not listen and Brinda knocks the owl down who is some woman.
Stay tuned to BollywoodLife for the latest scoops and updates from Bollywood, Hollywood, South, TV and Web-Series.
Click to join us on Facebook, Twitter, Helo and Instagram.