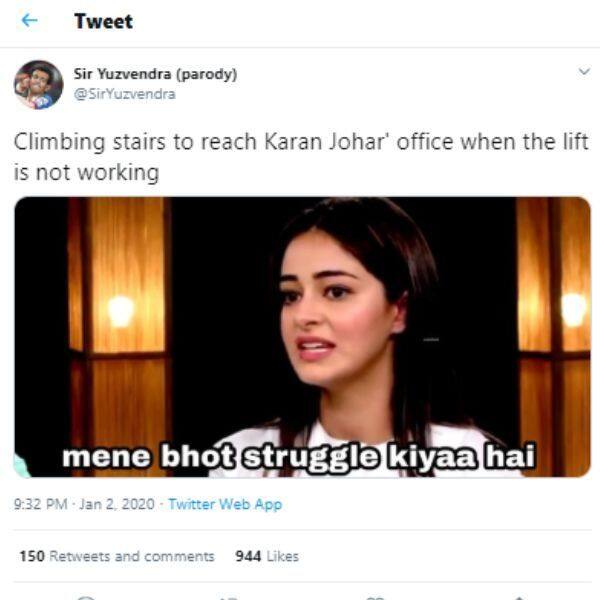 The first half of 2020 has been excruciatingly painful but there were some light moments as well. When not grieving for the loss of some magnificent talents, social media enthusiasts were busy tripping over the memes. You remember that time when trailers, songs and teaser of Bollywood films sent Twitter into a frenzy with memes? Well, meme makers are always on a lookout for content and they never fail to bring a smile to our faces, especially when it comes to driving away Monday blues. So, let's revisit some AMAZING meme topics that made the headlines in the first half of 2020. P.S. Keep the tissues ready in case if you have a laugh attack and tears start spilling. Also Read – Koffee With Karan 6: Ananya Panday's various expressions were followed by a storm of memes on the internet
Ananya Panday – Maine bhi struggle kiya hai
Ananya Panday is a favourite of meme makers. At a round-table conference, the actress had said that she had struggled a lot as well and her father, too, never got a chance to be on Koffee with Karan. Siddhant Chaturvedi's impromptu reply that was spun into a dig at her was also one of the major reasons that Ananya's take on struggle was turned into memes. Here are a few of them:
Climbing stairs to reach Karan Johar' office when the lift is not working pic.twitter.com/dZ8H5n7lIC

— Sir Yuzvendra (parody) (@SirYuzvendra) January 2, 2020
Your new year resolution after surviving day 1. pic.twitter.com/9lLKet23qN

— Self Isolated Sunil (@1sInto2s) January 2, 2020
When you have to stand 5 mins in line at Starbucks.

Bandra and South Delhi girls- pic.twitter.com/9luZiqGEJa

— Angoor Stark ? ?? (@ladywithflaws) January 2, 2020
Love Aaj Kal trailer memes
As soon as any trailer, song, teaser, or promo drops on the net, you've got to find a relatable line/lines and make a meme out of it. As soon as the trailer of Sara Ali Khan and Kartik Aaryan starrer Love Aaj Kal was released, it sent people into a tripping frenzy with one-liners like "Tum mujhe tang karne lage ho", "Aana hai to puri tarah aana, warns mat aana" and more that were turned into memes by social-media enthusiasts.
Nobody

Literally Nobody

Le LIC Agents #LoveAajKal2 #LoveAajKalTrailer pic.twitter.com/HDyPHey11U

— Nikhil Nick ? (@Niikhiil_) January 17, 2020
#LoveAajKalTrailer
*Follows a diet for half an hour*
Me to the diet: pic.twitter.com/AJdLP3FFo4

— aarey mahn (@Auro1234a) January 17, 2020
Me to sleep at 1 AM#LoveAajKal #LoveAajKalTrailer pic.twitter.com/l7o5H8CsCR

— Rahul Bhardwaj (@_rahulism_) January 17, 2020
Bigg Boss 13 memes
Just an expression can be turned into a meme. Then, how could the most controversial reality TV show, Bigg Boss 13, be left behind? Rashami Desai, Asim Riaz and Shefali Jariwala were turned into memes that will leave you ROFL.
Neha Dhupia – It's her choice
Neha Dhupia was brutally trolled when she supported a girl who had five boyfriends and was cheating on a guy who slapped her. She said that it's her choice and that created a meme fest on social media for a couple of days.
Neha : if a girl is having 5 boyfriends at a time, its her choice… pic.twitter.com/Rrzt3axrrL

— Anooj Pal (@anoojpal) March 12, 2020
Pic1 – Girls cheating on boys
Pic2 – Boys cheating on girls #Nehadhupia pic.twitter.com/yVvji5CPi4

— Ishaan (@Ishaan93070331) March 12, 2020
Ramayan Memes
Since the lockdown, various old TV shows like Ramayan and Mahabharat started airing reruns, which sparked off memes for the heavy dialogues and characters that were more savage than most you see today. Have a look below at the memes featuring Lakshman and Kumbhkaran from Ramayan:
#Kumbhkaran #Ramayana
Modi Ji – #Lockdown for One Days..
Modi Ji – Lockdown for 21 Days..
Modji Ji – Lockdown for 14 More Days..

Me all the time – pic.twitter.com/Wng3bgrL8Y

— Vipul Agarwal (@vipsdntlie) April 13, 2020
Laxman is savage ????#Laxman #Ramayana pic.twitter.com/nhZD9NsAqY

— Parin Shah (@parinshah79) April 13, 2020
First guy who gave befitting reply to radical feminist.#Ramnavmi #Ramayan #Laxman pic.twitter.com/nV7kWP6cIi

— छत्तीसगढ़िया बाबू (@36gags_) April 4, 2020
*5 year old me at barber shop*#Ramayan #Ramayana #Ramayanmemes pic.twitter.com/kGGos60eh8

— Aayush ⚡ (@Jahazi_Bhaiya) April 12, 2020
Masakali 2.0
Honestly, this was bound to happen one day. What else do you expect when you ruin an AR Rahman classic song for just another failed chartbuster.
#Masakali2
Good Songs Exits T-Series Re-create it pic.twitter.com/k7QIA7gdak

— Rudro?? (@itsrudroo) April 8, 2020
*A good Bollywood Song Exists*

T-Series: #Masakali2 pic.twitter.com/ZtSyKLQm4J

— Sagar (@sagarcasm) April 8, 2020
Say No to Remix songs?#Masakali2 pic.twitter.com/fqJuDraRhx

— AaYuu (@A_BrahminGirlll) April 8, 2020
9 baje, 9 minute
In solidarity with doctors, nurses and medical staff who are fighting against the coronavirus, PM Modi had announced a second initiative wherein he asked people to light a candle and stand united against coronavirus from home. Needless to say, meme makers were ready.
#9baje9minute
When Modi Ji just said to light up a candle or diya but you start torching up the cylinder

Family : pic.twitter.com/InVVo7xoFC

— Ye Koi ***** Hai Kya? (@intolerant_monk) April 3, 2020
"I want 9 minutes from everyone Stand in home balconies & light up candles & diyas."- PM Modi on #ModiVideoMessage

Meanwhile mombatti & Diya sellers: pic.twitter.com/2zjLyhkuW8

— Its RaNa.!! (@BeinggRana45) April 3, 2020
I will celebrate Diwali in New style #9Minutesat9PM pic.twitter.com/HQ4CWslRXH

— Farrago Abdullah (@abdullah_0mar) April 3, 2020
Aatma Nirbhar memes
There are quite a few words that people learned this quarantine, with 'aatma-nirbhar' being at the top of the list. Have a look at its memes here:
This Cracked Me Up ???????#AatmanirbharBharat pic.twitter.com/bXGpJy9c00

— Juhi ✨? (@Juhi_Jain_) May 14, 2020
#AatmanirbharBharat
She is the first #Aatmanirbhar lady
Be like Sheela? pic.twitter.com/Kx5cNq9Bwu

— Jaise_Taise (@Jaise_Taise) May 12, 2020
#AatmanirbharBharat #Lockdown4 announced by #PMModi
Me : pic.twitter.com/jqGliMqAft

— Akshay (@akshaykm27) May 12, 2020
Hera Pheri
Hera Pheri dialogues will always be relatable and readymade meme fodder, no matter what.
me: opening phone calculator for 5+7

brain: pic.twitter.com/pqcVoR0lJi

— The Daily Hera Pheri Meme Project (@dailyherapheri) May 5, 2020
wine shop owners stepping out of their houses today pic.twitter.com/XNJUxf7hau

— The Daily Hera Pheri Meme Project (@dailyherapheri) May 4, 2020
me: *about to reply to that text*

my ego: dude

me: pic.twitter.com/4R0hff29ih

— The Daily Hera Pheri Meme Project (@dailyherapheri) May 7, 2020
Rajpal Yadav memes
Rajpal Yadav is one of the most talented comedians in the entertainment industry. The actor's characters have always entertained everyone and so have his memes. Have a dekko here:
*Meanwhile me to my resolutions: Jabba???‍♀️ #quarantinememes #lockdown2020 #rajpalyadav #pareshrawal #resolutions2020 pic.twitter.com/lIKPG1HAIk

— Vidhi (@WeVidh) June 13, 2020
#memesdaily #memes2020 #MEMES #memestagram #memetwit #meme #indianmemes #FunniestTweets #Funniestmemes #Exams #exam #rajpalyadav

While writing answers in exam

Saari ki saari padhai : pic.twitter.com/i8SyBciYlm

— HumorousAatma (@HumorousAatma) June 18, 2020
#expectationsversusreality #PeakyBlinders #RajpalYadav
? pic.twitter.com/TFtbi7HwCa

— Meet Vasani (@MeetVasani11) June 6, 2020
Inflated electricity bills
In the month of June, a lot of people received inflated electricity bills much to their chagrin, but that didn't stop meme makers.
Looking at 3 months' consolidated electricity bill pic.twitter.com/8xWTSJRBg7

— Rahul (@spacem0nkeyy) June 28, 2020
Just facts on electricity bill.?? pic.twitter.com/DwrzQAA8jE

— ㅤ ㅤ ㅤ ㅤ ㅤ ㅤ ㅤ ㅤ ㅤ (@theesmaarkhan) June 27, 2020
Electricity bill this days #msedcl #electricitybill pic.twitter.com/ICXf0pNFDr

— Nikhil Nagda (@NagdaNikhil) June 28, 2020
So which of the aforementioned memes are your favourite? Let us know by tweeting @bollywood_life .
Stay tuned to BollywoodLife for the latest scoops and updates from Bollywood, Hollywood, South, TV and Web-Series.
Click to join us on Facebook, Twitter, Helo and Instagram.